Tuesday, 26 March 2013
Eva Wilson
Karib Nation Inc.  based in Washington, DC., is hosting the fourth annual Caribbean Style & Culture Awards and Fashion Showcase to be held on Friday June 28, 2013 . Doors will open at 7.30 PM, Showtime 9.00 PMat the Atrium @Treetops - 8181 Professional Place in Landover, MD.
Past awardees include Claudia Pegus, Michelle Cole, Patricia Coates, Bill Edwards, Roger Gary, Francis Hendy, Uzuri International, and Lois Samuels.
This year's showcase will feature Keisha Edwards (Shasha Designs) and Patricia Coates, Guyana, Glenroy March (House Of D'Marsh), Jamaica, Kimya Glasgow, St. Vincent & The Grenadines, Michel Chataigne, Haiti, Andrew Harris, Guyana/Barbados, Andrea S. King, 5th Element Designs, Barbados, Sharon Cox-Cole, Trinidad & Tobago, Shaun Griffith-Perez, Trinidad & Tobago, Chantney Renese, (Puerto Rico), Lu-Ann Skaggs, (Luz Art Designs), Trinidad & Tobago,Ilka Harrigan, (Nanichi) Anguilla.
For more information, visit http://www.CaribbeanStyleandCulture.com.
Friday, 22 March 2013
Eva Wilson
Photo Credit: Bruce Douglas
Colorful. When I think of the Caribbean, I think, "colorful".  The people are colorful in personality (and sometimes dress), the houses are colorful inside and out (the walls, and the family living withing the walls), and the landscape is colorful with all the bright flowers, plants, and birds.  When the boys and I walked into the theater, that was the first word that came to my mind when I saw the stage.
My boys, 7 and 13, were mesmerized throughout the entire performance. I was especially surprised at the 13 year old - he sat forward. He sat back. He smiled. He laughed out loud. He visibly held his breath.  He held his own hands. He relaxed. I caught myself looking over at him - with all his reactions, he was part of the show for me.  Every day I feel like his childhood is passing away into thin air as he passes me in height, starts to notice the ladies, and his voice deepens. But right then, there he was, next to me... delighted like a kid again by the singing, the dancing, the colors, the jokes, the music... As I looked around, I found that it wasn't just him.  Adults and their kids from the youngest toddlers to the tallest teens were wide eyed and smiling.
As you all know, I am a sucker for design, so the first thing I pointed out to the boys was the stage - can you see how special it is?
I don't know how many people noticed the stage during the show, but I noticed immediately - it is a steel pan.  And the corrugated brilliantly painted "gyal-van-ize"... genius.  What is a Caribbean setting without it?  From the tropical plants to the smiling sun (no for real, it smiled), the set, though small, was perfection.
The musical is based on the book by Cedella Marley, which is based on the lyrics to the iconic song by her father, Bob Marley.
SocaMom and Cedella Marley after the show - Thanks for snapping this pic Justice Fergie!
There are few opportunities like this one for you to be able to have a conversation with your children about Caribbean culture in such a fun setting.  My kids loved hearing the accents and the familiar music, and I enjoyed that there was even a brief history lesson thrown in there that showed the diversity of the Caribbean.
Africa, India, China, and Spain! Photo Credit: Bruce Douglas
The talk we had on the way home about family loving and supporting one another was spurred by the introduction of Cedella Marley as Bob Marley's daughter by Michael J. Bobbit, the Producing Artistic Director of the Adventure Theatre, and the man responsible for the adaptation of the book for the stage.  They were interested in how the music of her father inspired her to write the book.  Her husband and children were in attendance to support the performance, as was her brother, Rohan Marley of Marley Coffee.
Photo Credit: The Boy (see more of his real work at DavesCarShow.com)
Here's more about the show from the Adventure Theatre Website: "Ah…yasso nice! Three little birds sing their sweet songs to Ziggy, a very shy child who is happy to see the world from the T.V. in his room. But his tricky friend, Nansi wants him to get out and enjoy the Island of Jamaica. But, Ziggy is afraid of hurricane, mongoose and evil spirits. Their worldly adventure is enlivened by the fantastic songs of renowned Reggae artist, Bob Marley. Roots, Rock, Reggae!"
"Three Little Birds is based on the story by Cedella Marley with music and lyrics by Bob Marley. It was adapted for the stage by Michael J. Bobbitt with additional music & lyrics by John L. Cornelius, II. The production was directed by Nick Olcott and stars S. Lewis Feemster, Ayanna Hardy, David Little, Jobari Parker-Namdar, Brittany Williams, and Tara Yates-Reeves.
Should you see it?
Absolutely!  I plan on seeing it again with Baby Girl.  I've been taking them to events by the National Symphony Orchestra, and most recently the opera, and she is falling in love with music and theater. With all the singing and dancing - she'll have a ball.  If you are a Caribbean mom and would like to go with the rest of us Caribbean Moms in the DC/MD/VA area, join the Meetup Group!
Is it okay for the kids?
Duppy. Photo Credit: Michael Horan
We grown folks know that "Duppy" can be frightening.  When I heard it, I'll admit, I tensed up a little - but the way it was presented wasn't scary at all.  That being said, I feel like it is appropriate for kids (like it is suggested on their website) 4 and older. The 55 minutes went by VERY quickly, but it still is 55 minutes.
The singing, the acting, the sets, the costumes, all made for a fantastic, must see show - especially for moms of Caribbean kids!
The show runs from March 15, 2013 through April 14th. For more information on ticketing, visit the Adventure Theatre Website.  Adventure Theatre is located at 7300 MacArthur Blvd (Glen Echo Park) in Glen Echo, MD - in the DC Metro area.
American Sign Language Interpreted Performance: March 30 at 2:00pm
Sensory Friendly Performance: April 13 at 2:00pm
-----
ATMTC produces several professional productions for children and their families annually. These productions are enhanced by on-line study guides, interactive playbills, book clubs, post-show discussions, "meet-the-artists" events and other outreach/promotional tie-ins. These productions are aimed at integrating drama, literature, language arts and the National & State Fine Arts Standards of Learning into the thrill of seeing a memorable theatrical production.
Disclosure: I was given tickets to the show for myself and my family.  For more information on sponsored posts, click on About.
Friday, 01 March 2013
Eva Wilson
One of my favorite events is back for 2013! You have two days to enjoy live music, wine tastings, art, food, and craft vendors, family and fun at Linganore Winery! Don't forget to assign a designated driver... ($15 Designated drivers will receive a red wristband and will be unable to taste, consume or purchase wine during the event.)
May 25th and 26th
The admission is $20 per person. $15 Discount is for active military members. ID required.  Credit cards are accepted at the gate, and some vendors accept them too, but bring cash just in case.
18 - 20 yr. olds w/adult - $ 15.00, Under 18 w/adult free
Gates open at 10:00 am (get there early for a good spot), festival is from 12 pm to 6 pm.
Don't forget your blanket, chair, tent (up to 10 x 10), and your own food (no grills, generators, or any other cooking things) if you'd like.  No outside alcoholic beverages are permitted. Oh, and no pets.
Thursday, 31 January 2013
Eva Wilson
Okay, so VeggieTales is not just for the kids.  My husband and I watch it right along with them.  Just like Disney and other brands that make entertainment for kids, Big Idea seems to understand that we need to be entertained too, so there are plenty of jokes that are meant for parents, but not risque or anything, so if your kid does get it - you won't have anything else to explain.
Download The Little House that Stood Coloring Sheets!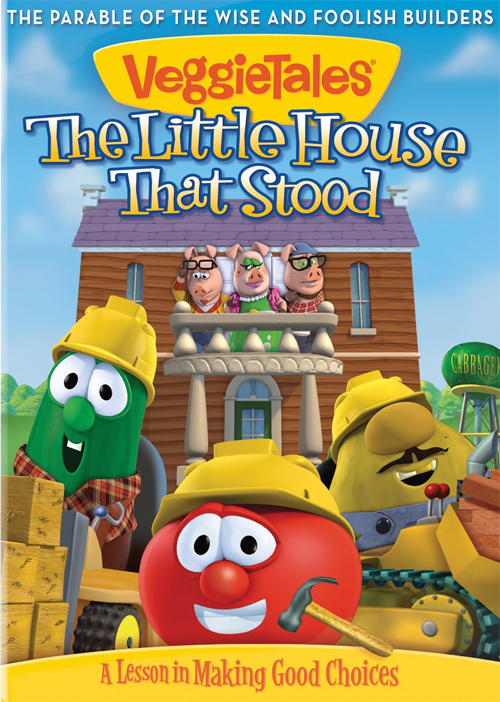 If you pre-order the newest DVD, The Little House that Stood, you'll get it by March 5th along with another free DVD (pick one from their list), and free shipping on your whole order. Use the discount code, "HOUSE".
Download The Little House that Stood Coloring Sheets!
This is a great opportunity to add something cool to your gift closet You know - the closet where you have collected children's gifts for those parties that the kids RSVP to for you, and that you find out about right after the stores close the day before the party. If you live in (or around) DC, you can get a sneak preview at my "Red Carpet" Screening on February 16th! If you are reading this from the front page, for details click "read more" (or the title of this post if you are reading this from your email subscription).
Read more...